Apple announced its ninth-generation iPhones, the iPhone 6s and the iPhone 6s Plus, at a media event in San Francisco, California on September 9, 2015. The iPhone 6s and iPhone 6s Plus can be summed up beautifully with a single quote from Apple CEO Tim Cook: "While they may look familiar, we have changed everything about these new iPhones."
Available with the same 4.7 and 5.5-inch Retina displays, the iPhone 6s and iPhone 6s Plus have the same exterior design as the iPhone 6 and 6 Plus, but much of the hardware inside, from the camera to the processor, is new and improved. Core technologies like the touchscreen and the vibration engine have been updated, and the devices are even constructed from a new material.
The iPhone 6s and 6s Plus are made from a 7000 Series aluminum alloy, which is stronger and more durable than the 6000 series used in the previous-generation iPhones. Apple's also updated the devices with stronger glass, made using a dual ion exchange process. One of the biggest changes is the introduction of a new aluminum finish in Rose Gold, which accompanies the traditional Silver, Space Gray, and Gold color options.
A second-generation Touch ID module makes fingerprint detection twice as fast, and the 64-bit A9 processor in the two devices is 70 percent faster at CPU tasks and 90 percent faster at GPU tasks than the A8 processor in the iPhone 6 and 6 Plus. A built-in M9 motion coprocessor enables new features, such as always-on "Hey Siri" functionality.
With the iPhone 6s and 6s Plus, Multi-Touch has been expanded to encompass a third dimension through a 3D Touch feature, and Apple is calling this "the future of Multi-Touch." In addition to recognizing a tap, sensors in the iPhones can also recognize pressure, enabling a range of new shortcut gestures Apple's calling the "Peek" and "Pop." A new Taptic Engine provides tactile feedback whenever the pressure-based gestures are used.
Most of Apple's "S" year upgrades include camera improvements, and the iPhone 6s and 6s Plus are no exception. Both devices have a 12-megapixel camera with some internal improvements to preserve color accuracy and speed up autofocus. The iPhone 6s Plus has Optical Image Stabilization, while the iPhone 6s does not.
With the improved camera, 4K video at 30 FPS is supported, and the iPhones can capture 63 megapixel panoramas. There's a 5-megapixel front-facing FaceTime camera with a True Tone Retina Flash feature that lights up the display of the iPhone just before a photo is captured.
The most novel camera-based feature available for the iPhone 6s and the iPhone 6s Plus is Live Photos, a feature that captures 1.5 seconds of movement before and after a photo is taken to display short animations and sound when a 3D Touch gesture is used on an image. Live Photos is designed to add a sense of vitality and life to still photos.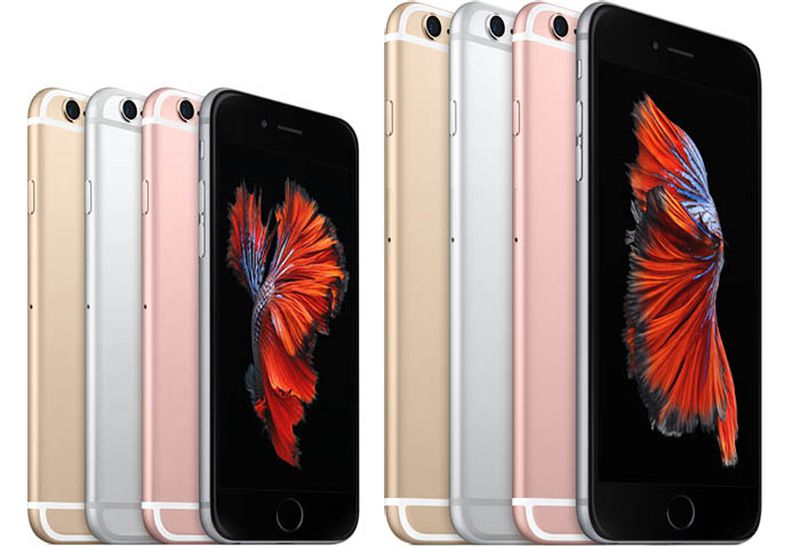 When it comes to connectivity, both LTE and Wi-Fi speeds have been improved. With LTE Advanced, LTE is twice as fast at up to 300 Mb/s, and 23 LTE bands are supported. Compared to the previous-generation iPhones, the iPhone 6s and the iPhone 6s Plus are twice as fast when connected to Wi-Fi, with Wi-Fi speeds up to 866 Mb/s.